Property insights
This Black Friday, why not Close the Doors?
30/11/16
Would you leave your front door open on a street from 9.30am to 6pm while you were inside all day? Many UK retailers seem to think this is a good idea to encourage customers to enter their stores, especially during today's Black Friday sales.
After an excellent talk at Temple Group by Jeannie Dawkins, founder of the Close the Door campaign, I am one of the many supporters of this excellent and common sense initiative.
Close the Door is an award-winning campaign urging retailers to close the door to avoid heating/cooling the street and to reduce exposure to hazardous outside air pollution inside the store that seriously affects the health of their staff and customers.
What retailers fail to understand is that open doors mean wasted heat and energy. The campaign reckons UK shops waste well over £300bn of energy a year. Ever wondered what factors go to frequently higher prices in shops than online?
Meanwhile on the street tiny particulates and NOx gas from diesel emissions are small enough to pass through the lung lining into the blood and therefore to every organ in the body. Consequently the air pollution we face today not only causes lung disease, but cancer, heart disease (as BHF funded research shows) and many others.
On 18/10/16, all nine of the Royal Colleges of Medicine launched the Breath of Fresh Air initiative to address what is a public health crisis, so serious are the effects of air pollution in the UK.
The campaign backs its claims with independent research from Cambridge University, King's College London and Imperial College. It's easy to see that a retailer simply can't trade ethically if it doesn't pay attention to this.
Thankfully, the likes of John Lewis Partnership and others have seen the light and closed their doors. Their bottom line is not adversely affected and many report that dwell time tends to go up as customers stay longer in more comfortable, calmer environments. Also shop lifting/petty pilfering goes down. Closed doors needn't be barriers to accessibility, with many opting for automated entrances or door closers.
Research by Kings College London and Imperial College on shops on Regents Street in London showed a ⅓ drop in both particulates and NOx inside due specifically to closing the door during trading hours.
There's a really good opportunity for landlords to send out a positive message to their clients and the general public. Pressure also needs to be put on the head offices of some high street retailers to take part in this campaign – many shops aren't allowed to close their doors without head office consent.
Clean Air London tweeted erlier this month that Stockholm has more than halved its CO2 emissions in the year. So why can't the UK government and councils encourage their local businesses and residents to do the same in just one easy and highly effective step?
If you'd like to find out more about this worthwhile campaign, please go to: www.closethedoor.org.uk or contact info@closethedoor.org.uk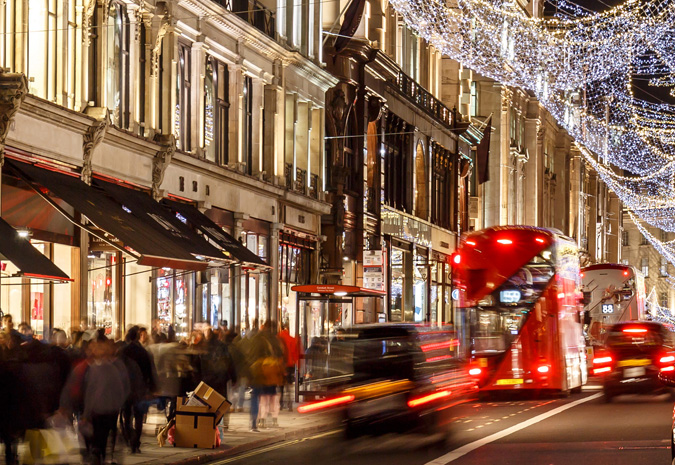 Taking pride of place
08/11/16
I recently attended the 'Creative Placemaking' seminar, organised by New London Architecture, along with about 150 others. But why? And who were all these people? Among the speakers were City visionaries and number crunchers. There was 'big picture' perspective, as well as the 'minutiae'. It quickly became apparent at the event that there are a lot of interested parties, many people with a stake in placemaking who also share a wish to transform a place for the better. This in itself struck a chord with me. It shows that an important ingredient in placemaking is collaboration. Given the many organisations involved in the process, it's invaluable to allow for early stakeholder cooperation to help form early strategic approaches.
Mark Davy, founder of FutureCity placemaking agency, is an advocate of early intervention in the masterplanning process, to help form a cultural vision. He referred to inverting the traditional pyramid, whereby a broad approach is applied at first, with many parties contributing and a filtering system that narrows down the numbers of parties involved over time.
This approach creates joined up thinking from the start.
Placemaking is strategic and should be given pride of place alongside masterplanning, not tacked on as an afterthought.
As a shining example of successful collaboration, during World Green Building Week, we heard about the Wild West End initiative created by The Crown Estate, Grosvenor, The Portman Estate and the Howard de Walden Estate. Wild West End aims to promote green infrastructure in London through a number of biodiversity projects. It is the first global, city-centre ecology project that has been created and driven by a partnership of this type. The initiative has gained support from the Mayor of London and the London Wildlife Trust.
A placemaking strategy should take account of user needs, therefore community engagement is key. It's important to listen to what the residents require and build a strategy that acknowledges this.
Another thing that struck me is that 'transforming a place for the better' comes in different forms.
There are those who are invested in providing for communities (the people who live or work in that place). This is part of the cycle of success that can be created in tandem with financial returns. Developers, Architects and Councils themselves are all part of this. The wellbeing of a workforce in terms of location, safety and amenities is paramount for business leaders, so the provision of such has to be at the core of a strategic plan that informs masterplanning decisions.
There are those who are looking for a return on investment. CBRE have studied 20 interventions around the world to gauge the value of placemaking. This included such initiatives as the High Line in New York. Their evidence suggests that property prices can be elevated by 130% in comparison with its surrounding area. This is exactly the point that Digby Flower, CEO of Cushman & Wakefield made to me following my last placemaking article, citing the example of Bankside, which had the same effect.
There's also a magic ingredient, which is brought about from creativity and innovation. This is instilling joy into the lives of users who experience the efforts of the placemakers.
CapCo showed us how they inspire young people in and around Covent Garden, with installations from artists and other inspirational initiatives that bring life and energy to a place. This is important in helping to create a narrative that is relevant to people and connects with them.
The Illuminated River is a fantastic idea to connect 17 London bridges from Albert Bridge to Tower Bridge with a ribbon of light installations. Clearly this will rely on major collaboration that crosses district boundaries, something that challenges conventional thinking and will probably become a signal to the world of Britain's innovation and creativity.
Placemaking is on the map, it's making the news and it is to be celebrated. And let us not forget that in the DNA of every placemaking initiative, there will be a narrative, with stories to be told.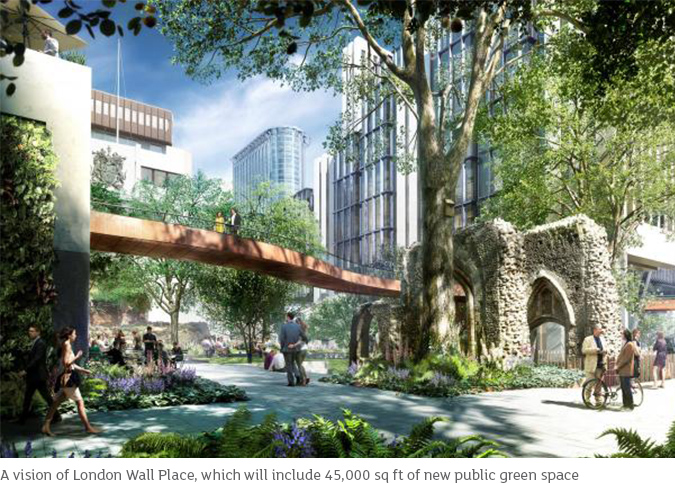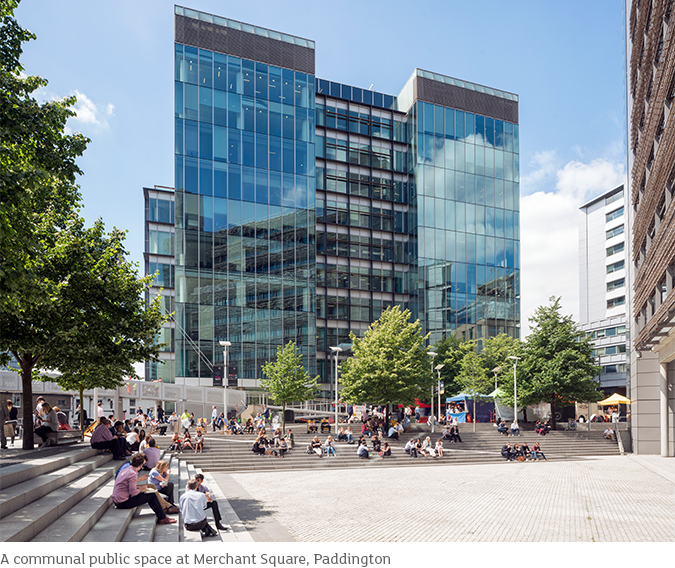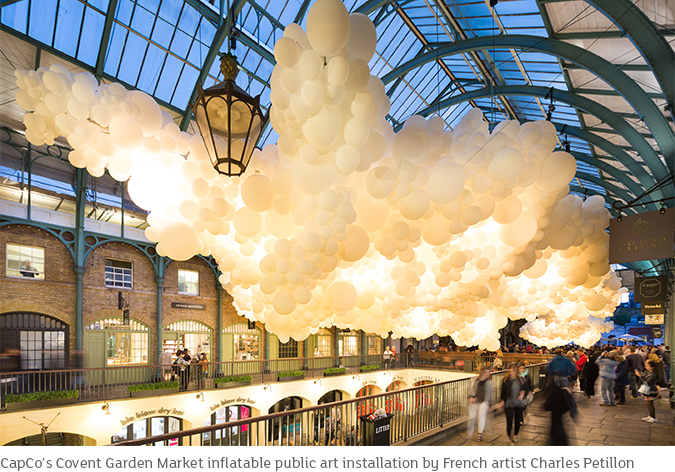 Cross-laminated timber
01/09/16
by Charlotte Christie
Cross-laminated timber (CLT) was a mystery to me until I attended a talk by David Lomax of Waugh Thistleton Architects at last month's Vision London event for architects, clients and suppliers in Olympia.
David explained that CLT is an engineered-wood alternative to traditional timber where boards of wood are stacked at angles and glued together. It is strong, lightweight, versatile to use, cost-effective and offers thermal and fire resistant qualities.
Waugh Thistleton designed its first building using CLT in London in 2003. Since then other projects have included Murray Grove in Hackney, which completed in 2008 and is the world's tallest modern timber residential building. CLT offers various environmental advantages, including carbon benefits. In this case, using it saved 1,150 tonnes of CO2.
Discussion forum New London Architecture (NLA) has shortlisted Murray Grove in its 'New Ideas for Housing' study for 'Grow London', a tall timber project. This is how the book A Process Revealed describes the project:
"Client, architect, engineer and manufacturer worked closely to deliver an extraordinary nine storey residential development in central London. The tallest building of its kind, it has an entirely wooden structure from the first floor up. The building pushes the boundaries of timber use in modern construction and will profoundly affect the way we build in the future. The design team intends to make the processes developed for the construction widely available, so others considering this versatile and environmentally friendly material may use this book as a guide."
Waugh Thistleton joins a few others in the built environment that are exploring new methods and techniques in buildings using CLT. In Finland, the OOPEAA Office for Peripheral Architecture has used it innovatively in the Puukuokka Housing Block. The goal was to provide affordable housing of the highest quality that was environmentally responsible. Using prefabricated, modular CLT helped it achieve that.
Investors and developers, including Legal & General (L&G) Homes and Regal Homes, are on board too. At Vision, Rob Hall from L&G Homes discussed mass production CLT Modular units as a new solution to the shortage of suitable, affordable and sustainable housing.
With the government forecasting that 500,000 new homes will be needed by 2025, is there an opportunity to increase the use of CLT, to mitigate the housing shortage for both buyers and renters?
In terms of industry competition, it remains to be seen how 'fast-track' materials like CLT will affect suppliers and builders' merchants, like Travis Perkins. Already there is a growing trend among architects to go directly to CLT suppliers and manufacturers, for example in Austria and Germany.
However, if CLT is going to get off the ground in a big way, a few things need to happen. First, the building industry needs to remove embedded behaviours that suggest a resistance to change – the 'we've always done it this way' culture. Opening minds to new materials is vital if the built environment is to realise and quantify the benefits of CLT.
So early engagement throughout the construction eco-system will be a key driver in adopting CLT and other modular building methods, with architects leading this thinking.
Other industry changes will affect CLT's use. The supply chain is struggling as it tries to engage with building information modelling (BIM), which the government calls 'the most ambitious and advanced centrally driven programme in the world.' It is a collaborative working method using digital technologies to manage information throughout a project.
If the industry is to deliver value to a client, it will need to think differently and more openly. CLT can bring about a change in perception, thereby changing the culture of construction and its practitioners.
For example, integration, innovation and a change in attitudes are needed when using CLT as the construction time is shorter than traditional methods. Developers and clients would also need to make quicker decisions, possibly within 24 hours due to the speed of working with CLT.
At the same time, developers want buildings quicker to achieve a return on their investments. Off-site construction is the most viable way forward to retain the quality to deliver high spec solutions.
And to ensure bigger investment in CLT, the industry will need to attract institutional funding from companies like Aviva. With size and financial power on its side that shouldn't be too hard.
In July 2013, The Department for Business Innovation & Skills document about UK Construction states that: "Construction is one of the largest sectors of the UK economy. It contributes almost £90 billion to the UK economy."
So it is an exciting time for the industry as fledgling activity begins in the market. It presents opportunities to form partnerships to boost the innovative, sustainable and economic solutions that CLT provides in the future
With thanks to Dave Lomax at Waugh Thistleton Architects and Alison Harmer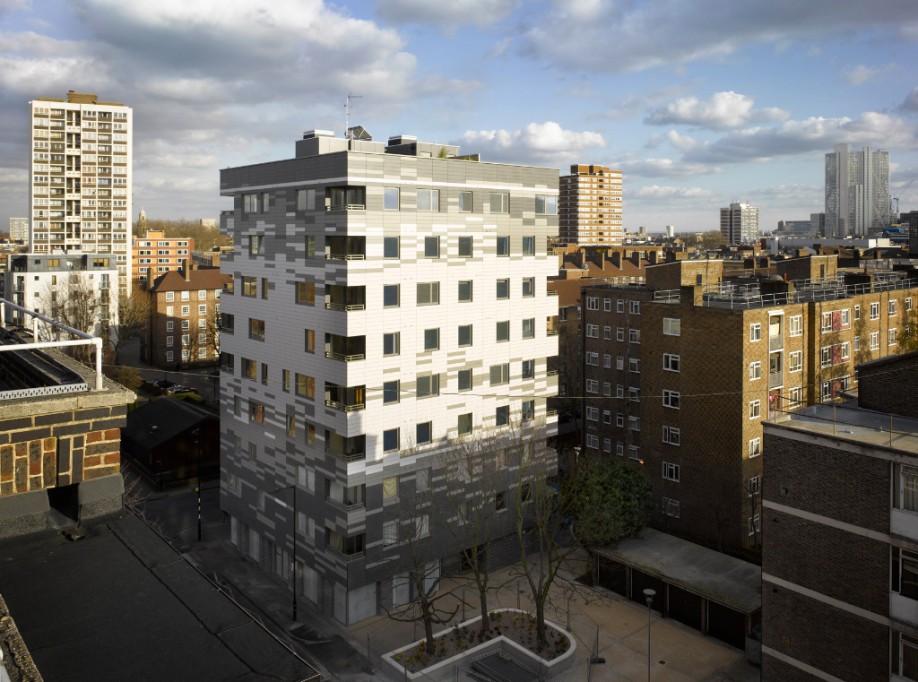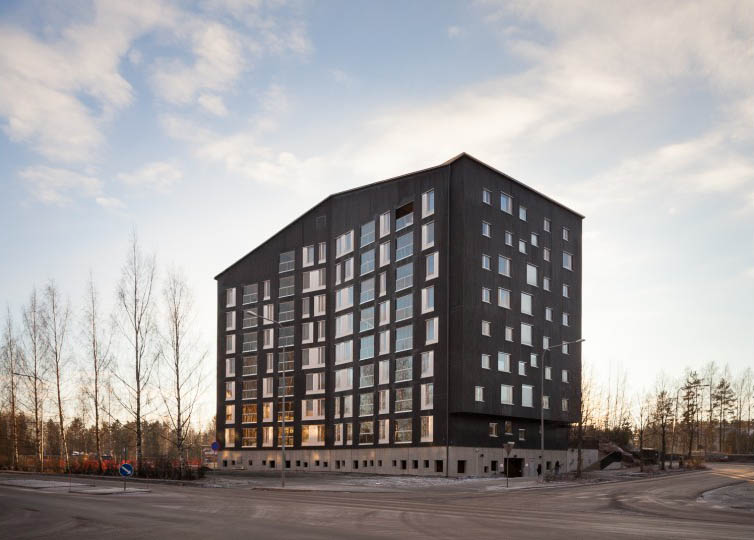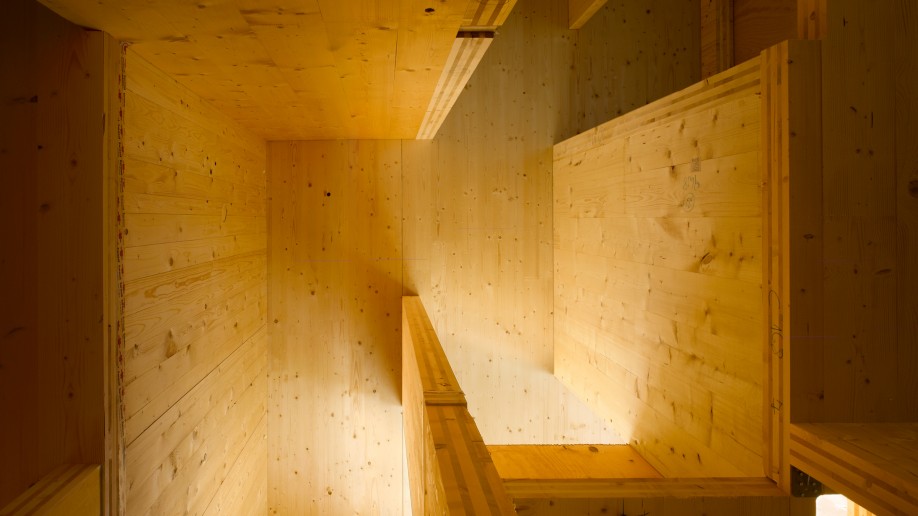 You're more than just a business… you're a brand
07/06/16
Brand identity was a phrase much bandied about during the boom, as businesses and products competed to stand out in crowded markets. But the benefits of a defined persona, with clearly stated principles and aspirations, have weathered the change in economic fortunes, and infiltrated the architectural profession. The payoffs might be greater than you think.
Why do architectural practices benefit from a brand identity?
Many architectural practices rely on their name to express their identity. The problem with this is that they all end up looking the same. Imagine if that were true of buildings.
Having rebranded and worked with a number of practices over the years, some architects can be suspicious of it, especially when they're known for their buildings. But effective branding gives audiences a better understanding.
So why have a brand identity? Why does it matter?
Potential clients might be familiar with what sort of architecture you provide, but they don't necessarily know what the journey would be like. An identity is going to support your architectural approach, but further than that, it reflects an attitude and a way of working that speaks volumes about the sort of practice you are. It's also important that your staff and new joiners understand the culture of the practice, what's expected of them and what life will be like for them.
There are a number of reasons to refresh brand identity. It might be that the practice has fundamentally changed in some way, perhaps it is operating in new areas, there has been a merger or name change. Or maybe it's simply that the existing branding is just a bit old and tired.
What are the benefits to the practice?
There are five fundamental reasons for getting a brand identity. First, it helps build your reputation: you operate in a very competitive marketplace. You want to be chosen to do the projects you want to do. An effective brand identity will help bring clarity and understanding to your audiences.
Secondly, you may be pigeonholed for a style of architecture that isn't what you want to do. Branding can help change perceptions. In turn, this can help your business to grow. Our recent rebrand of Purcell delivered a 29.5% increase in turnover over the first two years since its launch (see below).
Branding can also facilitate business decisions. The process of creating an identity provides you with a clear brand strategy which feeds into your business plan, helping you determine the future of the company.
Finally, it is a useful way of uniting staff within the company. It is key for employees to understand the practice they are working for or wish to work for. The behaviours and actions of your team are critical to your success, so they must buy into your ethos.
What exactly is a brand identity?
Essentially, branding is a way of distinguishing a product or service. If you think of its origins, branding cattle identified ownership. A successful brand identity will create coherence, consistency and distinctiveness. It will tell your story clearly, in your own way, while consistency brings brand recognition, which is obviously a valuable asset. In a competitive marketplace it is key to stand out from the crowd – appropriately. No two practices are alike, so don't look or sound like anyone else.
How do you create a brand identity?
A brand identity must be created following an objective process. It starts with the formulation of a strategy, at the heart of which is a core proposition. This is the 'big idea'– just a few words that describe the essence of a practice. This is the flag you want staff to rally around. It is also the springboard for creating your brand identity. Supporting the core proposition is the practice's vision, values, offer, positioning and personality.
The best way to formulate all of this is to run a workshop. This would typically be facilitated by a design agency. They are skilled in the clever ways to open up participants' minds and to avoid them thinking too literally. In addition, for larger practices it's worth considering a simple staff survey. This not only involves everyone but makes them feel part of the process, which is valuable for the new identity to be embraced. Talking to some key clients, current or lapsed, can be helpful too, as you might learn things about yourselves that you didn't know (whether good or bad, this is useful).
With a strategy in place, a creative brief can be created. This brief becomes the benchmark against which the creative concepts are measured. This keeps the process focused and objective. The next stage would be to create the visual identity itself. The core elements (logo, typefaces, colours, tone of voice and imagery) combine to create a visual language that is distinct and bespoke. You may need to dial up or down the tone of communications to suit different audience types and we do this by controlling certain core elements that are 'locked' and others that are flexible, thereby achieving the combination of consistency with flexibility.
Successful branding is proven to work. The DBA Design Effectiveness Awards are testament to this. Ask Purcell.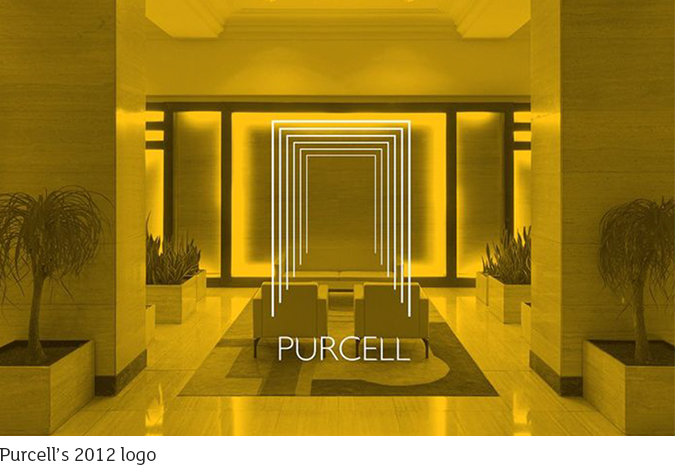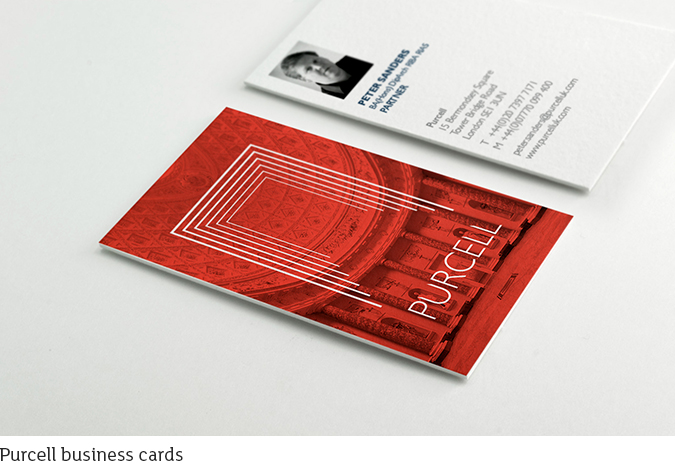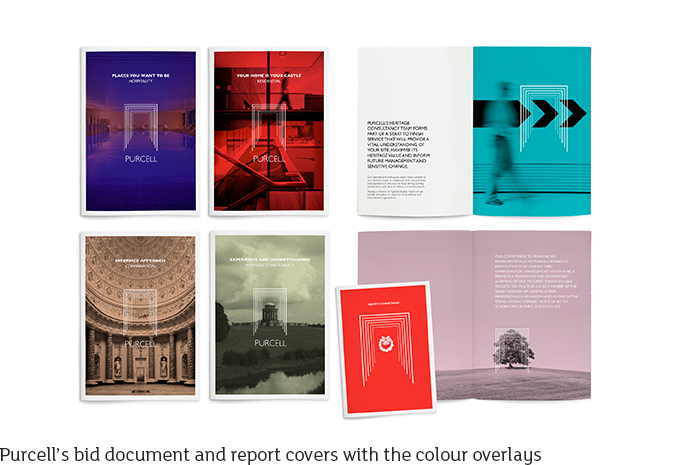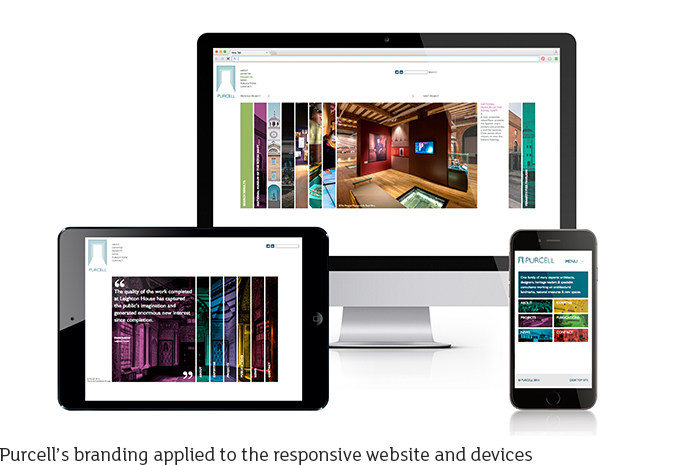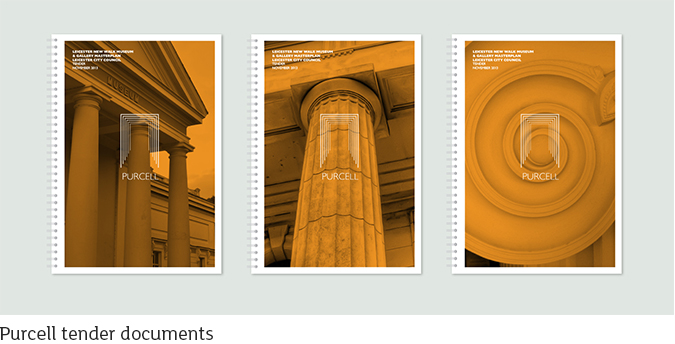 Can placemaking define the identity of a place?
20/01/16
Recently I was fortunate enough to see first hand what Grosvenor has been doing to improve Mayfair. As well as major refurbishments to some of their Georgian properties and new premium retail in Duke Street, they have introduced a number of community-based initiatives, such as a film festival, 'Fitness in the Gardens', bee-keeping, 'Summer in the Square' and pop-up green spaces. There is also an Anthony Gormley sculpture as a part of the new Beaumont Hotel.
This is being replicated across London. Land Securities are redefining Victoria, Argent are transforming Kings Cross, Derwent are revitalising Fitzrovia and Howard de Walden have evolved Marylebone.
They do it to improve the environment in which we live, work and relax.
But why?
You've heard of the broken window theory? Well, this is the complete opposite. Placemaking creates an upward spiral of wealth. Creating an environment to which residents and visitors flock encourages retailers to come, amenities to follow, then businesses to settle.
These days, businesses have to think carefully about where they locate. Not least because the new generation of employees are more demanding of wellbeing credentials than they once were. This means that not only is it advantageous if the building has facilities that enhance staff lives, but that the building is in a place that also enhances them. To have good quality local shops, bars, restaurants, cinema and fitness facilities brings extra value to businesses trying to attract the best talent.
Placemaking isn't only applied to an area though. It is as important for a business park, a shopping centre or even a development. Where there is public realm, there are opportunities to use the space in ways that can be enjoyed by its users. A powerful expression of placemaking is art in the public realm, particularly sculpture. This is used to reflect the cultural stature of a place. Public art helps to create a distinct identity, therefore it is incredibly important to get it right.
The secret to creating an authentic identity is in understanding the history or geography of a site – this is where the gold is mined. As Will Bax, Director of Placemaking at Grosvenor explains, "It is about understanding what makes each place tick, why they are unique and how their stories and rhythms have come to be what they are. Our approach requires recognising that, but it also requires understanding what the people who use those places want and need."
Placemaking needs careful handling, as the way a place is perceived is key to the audiences it attracts. Essentially, it helps to define an area, perhaps to put it on the map or to redefine an existing impression. In this sense, it is a central pillar in the identity of an area.
Nowadays the world is so brand-literate; just about everything is a brand. This is true of placemaking. Defining the brand and telling its story should always be at the centre of placemaking activity. It provides the glue that binds everything together. It helps deliver a clear and consistent message to the audience, whether through its development strategy, public realm or community initiatives.
When done well, it breathes life into a place.
I look forward to my next guided tour of a transformed place… wherever that might be.
With thanks to Will Bax, Director of Placemaking at Grosvenor for his contribution.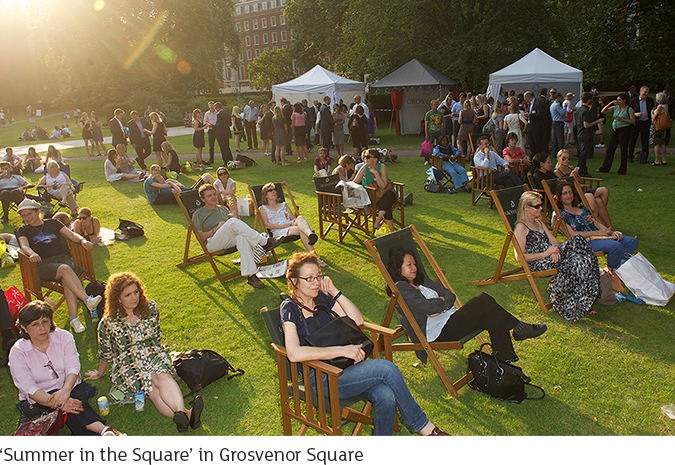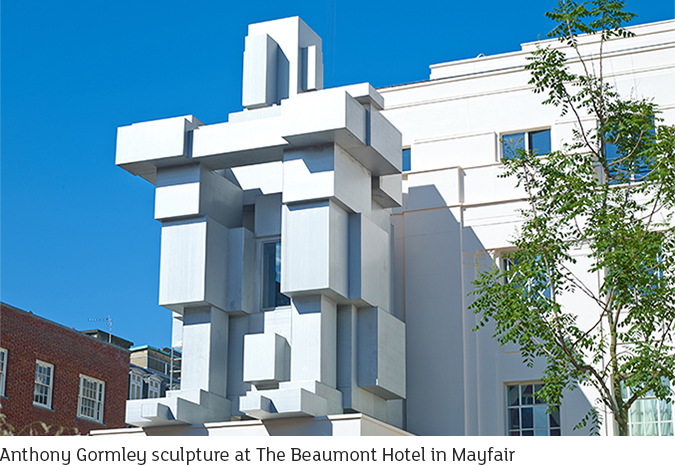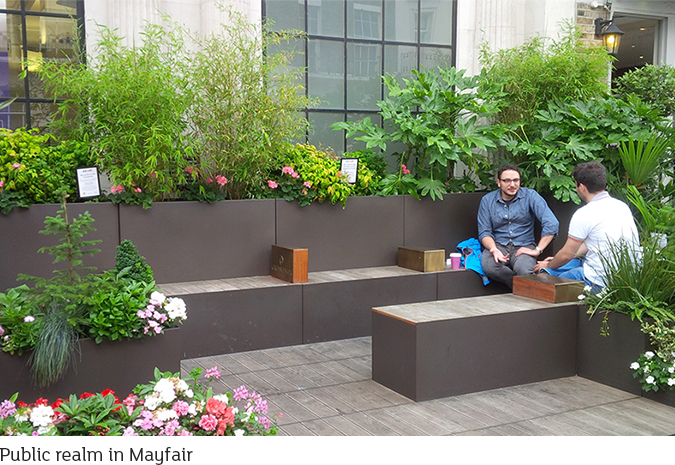 Communicating the value of wellbeing
14/10/15
In the property sector, the concept of wellbeing is on the agenda. It's not a new idea, but it is coming to the forefront for developers when considering how to position and sell their property.
So why is this? I spoke to Jin Cui (Tishman Speyer), Robert Delius (Stride Treglown), Mike Hussey (Almacantar) and Luke Schuberth (Aukett Swanke) to find out.
Put simply, the demands of the property consumer are changing. Particularly in the Telecommunications, Media and Technology (TMT) sector, young people are demanding a new way of working and this has gathered pace over the last couple of years. In particular, they are looking for a better work/life balance and a happier workplace plays a part in this.
A new culture
According to Mike Hussey, Founder of Almacantar, "Global businesses compete for the hottest graduate talent. Many TMT companies are winning this talent by developing a working environment around the company culture. It appeals to their values. It can be a powerful draw."
A response to changing lifestyles
When businesses are looking to relocate, a healthy working environment for their staff now ranks high on their list of buying criteria. Features such as natural daylight, fresh air ventilation, roof gardens, break-out areas and cycle parks in buildings are attractive to prospective occupiers weighing up the pros and cons of a new building. Likewise, lifestyle factors come into play, such as social interaction, transport links and local amenities.
But it's the result of these factors that is particularly important. The outcome is an uplift in the productivity of the company. Addressing 'wellbeing' therefore presents a genuinely valuable asset.
So how should a developer communicate wellbeing to prospective occupiers?
Designing happiness and wellbeing into a building without communicating its value is a missed opportunity.
In marketing a property, developers should be looking for unique selling points to build a campaign around to give potential occupiers a clear message about what the building offers compared to others. If they have considered wellbeing, it should be at the forefront of the marketing campaign or even be the central theme itself.
So how do you go about this? What are the key questions to ask to convey the value that your building represents?
Here are some suggestions:
• What is the core proposition of the building? Is the wellbeing aspect strong enough to stand up as the core proposition? Should it be at the centre of a marketing campaign or play more of a supporting role?
• How can wellbeing messages be illustrated to emphasise their value? It's important to bring these to life.
• Could statistics be used to illustrate wellbeing? Available data on the effect of wellbeing on increased productivity is in its infancy, but there are statistics provided by the World Green Building Council's publication "Health, Wellbeing & Productivity in Offices, the next chapter for green building". These are helpful in communicating the value of the wellbeing. Read it here.
Kimpton Creative is proud to be working with property developers and their agents to ensure that they leverage every valuable asset they own.